"Teaching in Freedom, Empowering Teachers"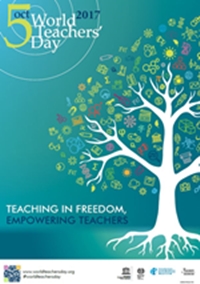 World Teachers' Day 2017 will be celebrated under the theme "Teaching in Freedom, Empowering Teachers", echoing the 2015 theme that followed the adoption of the new Sustainable Development Goals (SGDs)(link is external) in September 2015, when teacher empowerment was reaffirmed as a top priority in all education and development strategies.
World Teachers' Day is celebrated annually worldwide and brings together governments, multi- and bilateral organizations, NGOs, private sectors, teachers and experts in the field of teaching. With the adoption of SDG 4 on education, and the dedicated target 4.c recognizing teachers as key to the achievement of the 2030 Education Agenda, it has become the occasion to mark achievements and reflect on ways to counter the remaining challenges for the promotion of the teaching profession, like the acute shortage of teachers. Indeed, according to the UNESCO Institute of Statistics, the world needs 69 Million teachers if we are to achieve universal primary and secondary education by 2030.